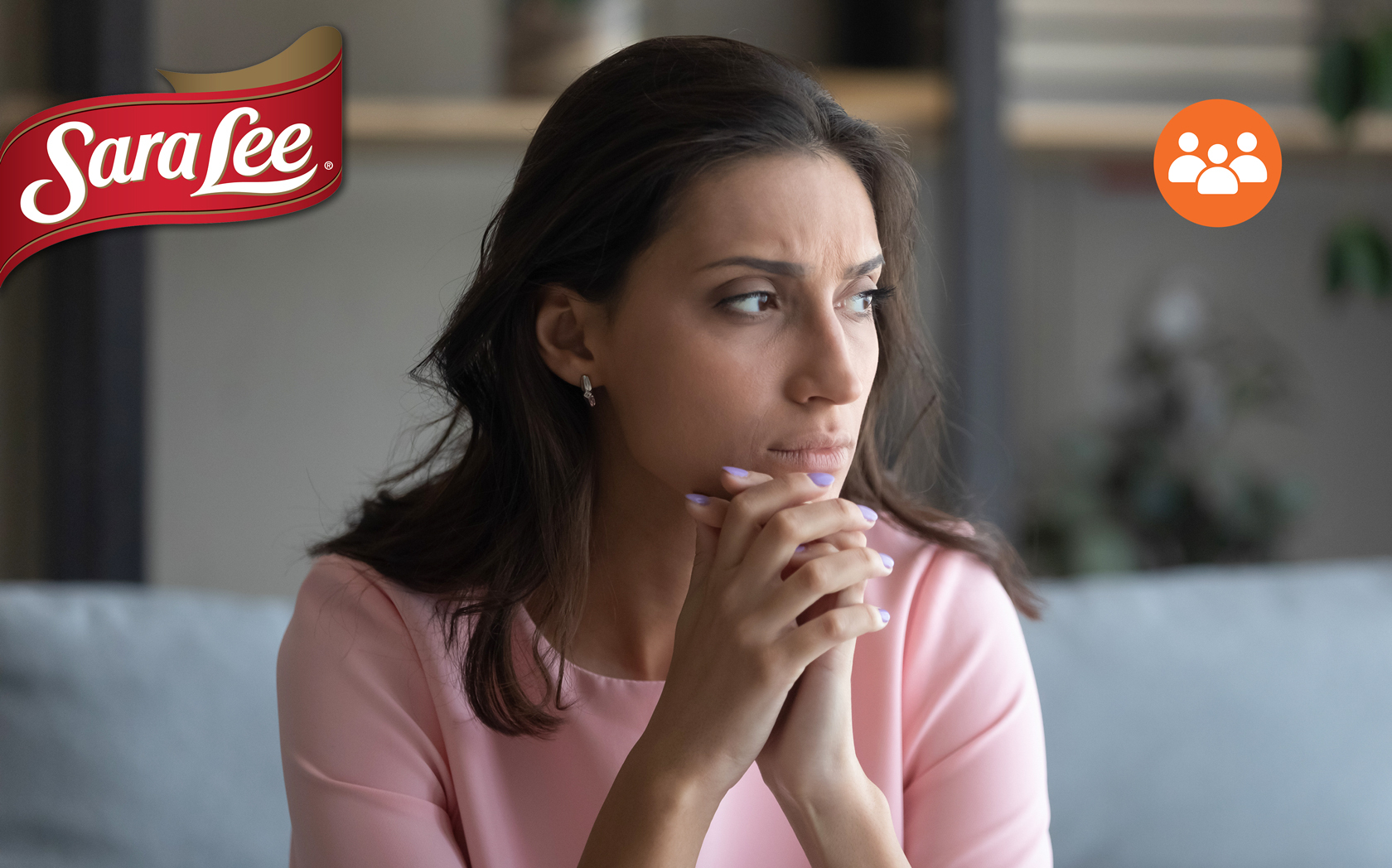 Why Women Are Especially Vulnerable to Facing Food Insecurity

July 18, 2023
According to the United Nations, as many as 828 million people globally were affected by hunger in 2021, and approximately 31.9% of women worldwide experienced moderate or severe food insecurity.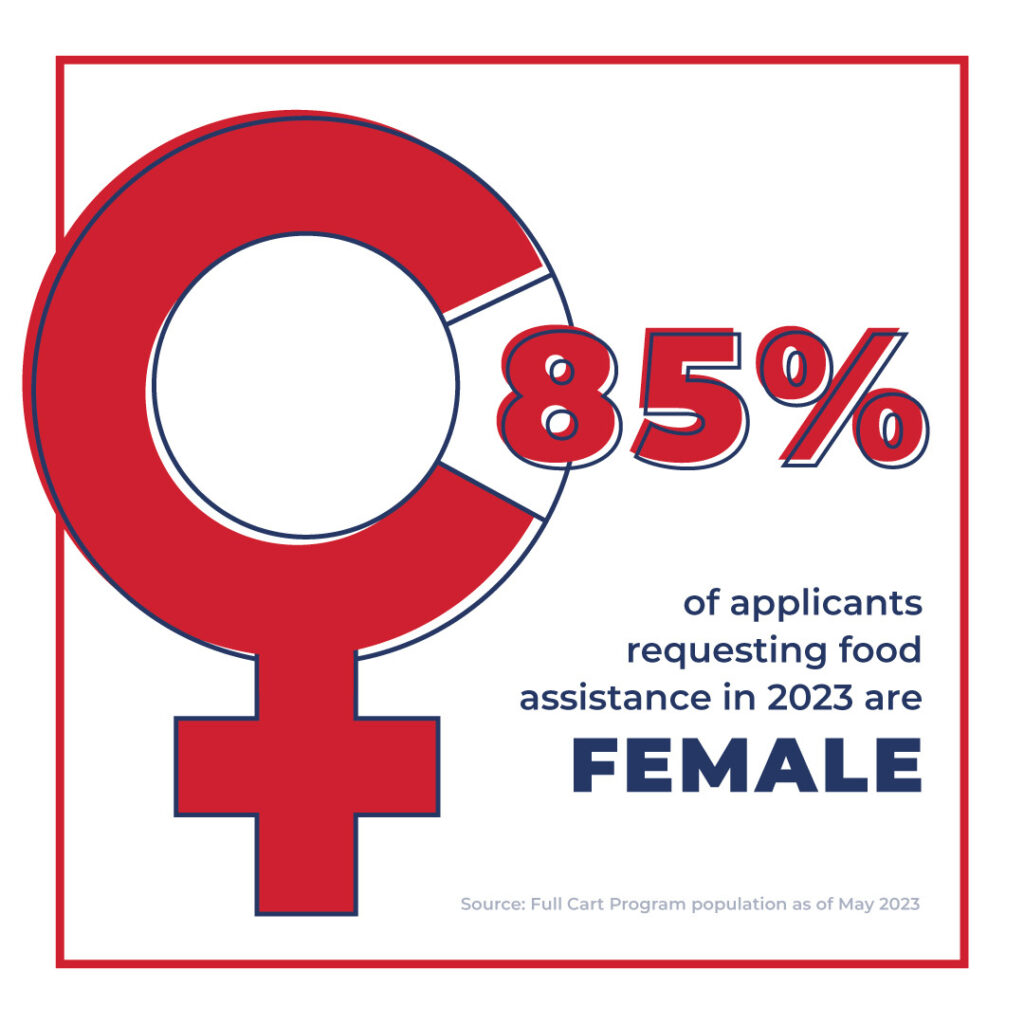 Within the United States, food insecurity affected approximately 34 million people, the majority being women and children. According to the USDA, rates of food insecurity in 2021 were higher than the national average (10.2%) for households headed by a single woman with children (24.3%) and in households with women who reported living alone (13.2%). Historically, women are disproportionately impacted by socioeconomic disparities, continuing to outnumber men in documented cases of food insecurity in what has become known as the gender gap in food insecurity. Despite ongoing efforts to achieve gender equality, these disparities remain prevalent today. Globally, within developed and developing nations, women tend to have less economic resources (i.e., assets, lower employment rates), are less educated, experience higher rates of gender-based violence, and share a larger burden of caregiver responsibilities when compared to their male counterparts. As a result of these factors, women are more vulnerable to experiencing food insecurity; thus, as we identify and investigate root causes of food insecurity further, it is critical that we implement practical solutions that specifically target and are directed by women.
Economic Challenges
The vast majority of the people who apply for food assistance through U.S. Hunger's online portal identify as women, many of whom speak to the economic challenges they are facing on a daily basis and how those challenges have contributed to their request for food assistance. Since the start of 2023, U.S. Hunger (USH) has collected more than 24,000 requests for food assistance with 85% of those applicants self-identifying as female. Within the female applicant population, 40.3% reported that they have a household income of less than $25,000 with 31.5% responding that it is "very hard" to afford "the very basics," including food, housing, and medical care.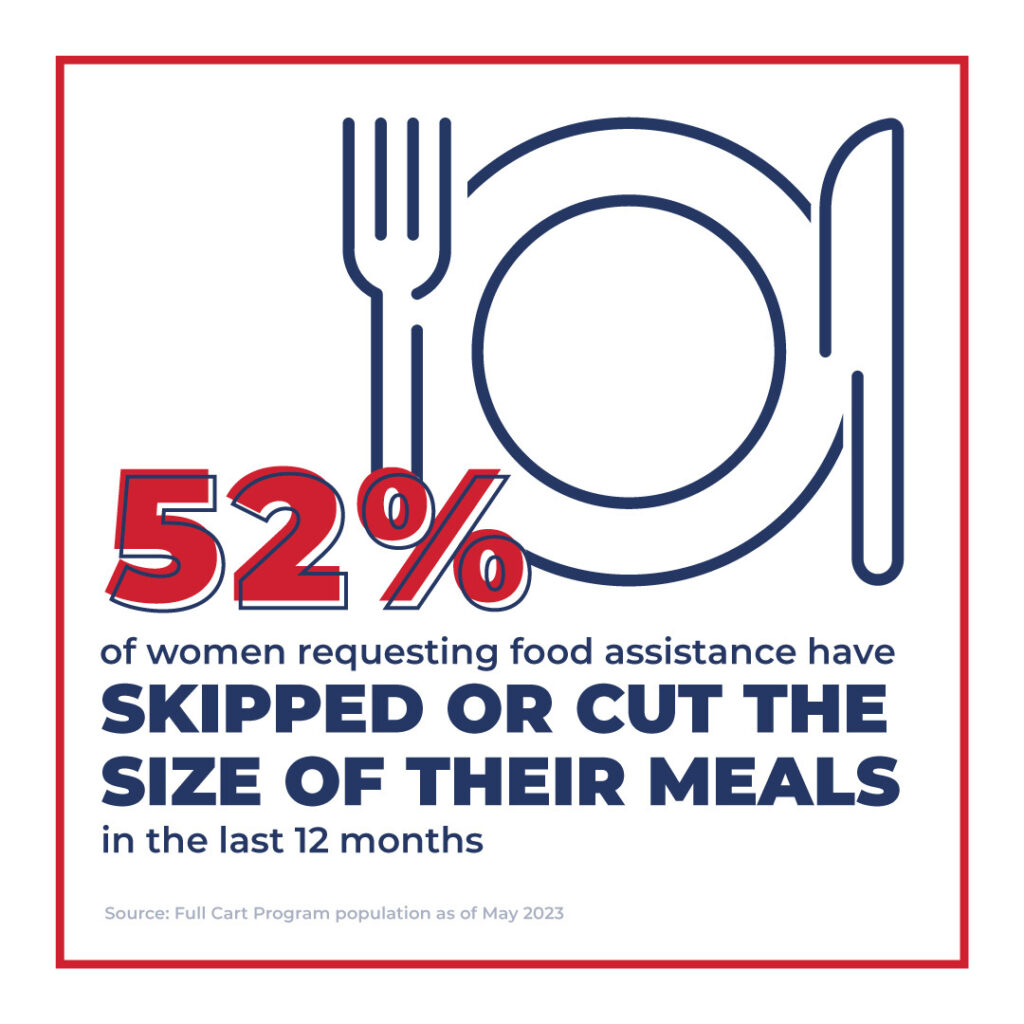 Their testimonials speak to their role as head of the household and to the sacrifices they make as caregivers in their community. Often, women are traditionally responsible for the domestic work in a household, including securing and preparing food, and ensuring that the needs of others in their household are met before their own. For example, more than half of USH's female population (52%) reported that they skipped and/or cut the size of their meals "because there was not enough money for food" in the last 12 months. Women's traditional roles in unpaid, domestic care as well as more recently within the formal sector, make women a particular group of interest when evaluating the effect of food insecurity. In economic crises, like those brought on by the 2008 food price crisis and the pandemic, women's employment recovers more slowly than men's with a reduction in paid work time typically being reallocated to non-market work such as procuring food, cooking, and caring for other members of the household. Such financial strain leads to more stress and less time for leisure and care; therefore, the quality of care and life within a household begins to decline, which may lead to rising levels of intolerance and intimate partner violence.

Gender-Based Violence
Empirical research supports that there is a positive relationship between food insecurity and violence among women, and various USH female applicants have alluded to previous experiences of gender-based violence. Violence and food insecurity appear to have a bidirectional relationship and are intertwined in several ways, including restricted access to finances (i.e., economic abuse), reliance on financial assistance, and environmental factors (e.g., poverty, financial stress). Victims of domestic violence tend to have less economic resources available to them, putting them at a higher risk of experiencing very low food security, feeling stressed due to financial strain, and engaging in risky behaviors, such as transactional sex, to acquire food.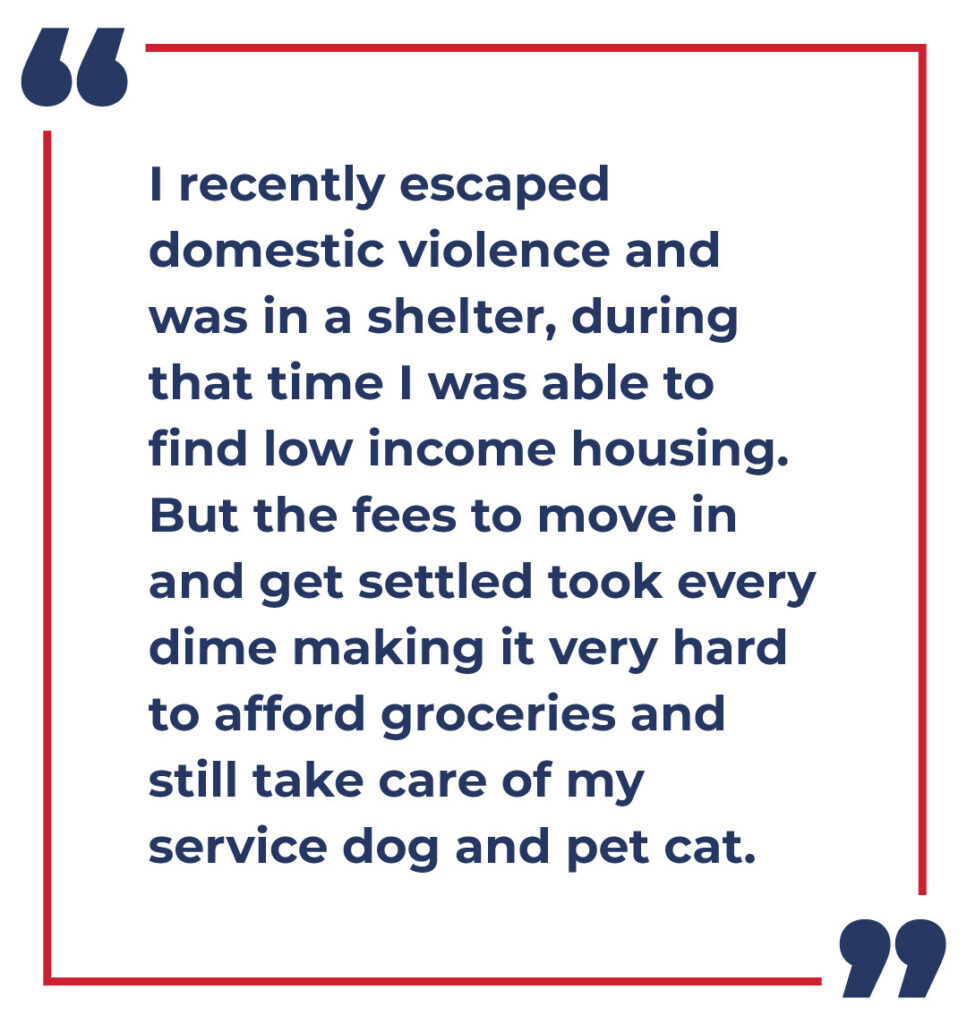 The stress experienced within a household due to limited finances and means to acquire basic needs may manifest into intimate partner violence (IPV). The risk of IPV also increases with the severity of food insecurity experienced (i.e., very low food insecurity) as well as the length of time a person is unable to access or acquire the food they need. Thus, lower-income women who experience persistent food insecurity, are at a heightened risk of gender-based violence. Additionally, women are more likely to be victims of violence even if food insecurity is not presently a threat for them. According to Conroy and colleagues (2019), both current and past food insecurity is positively associated with violence even after adjusting for socioeconomic status. Efforts to reduce food insecurity, therefore, must not only be focused on socioeconomic factors but also early interventions to increase food access and prevention strategies founded in improving behavioral health and reducing violence.
Conclusion and Solutions
Food security efforts that target women are beneficial to everyone as they help the whole family in addition to eliminating obstacles that are universally experienced by individuals who are food insecure. Efforts to combat food insecurity among women must begin with the very women who can speak to that experience. Community-based organizations (CBOs) are at the forefront of identifying community-level barriers that contribute to food insecurity and have the trust of the community members they serve. Funding, therefore, should be directed toward CBOs so that they may elevate the voices of those they serve and provide community-led, client-centered services to combat food insecurity. Though firsthand accounts and testimonials point towards priorities- increase access to economic opportunities and education- true engagement and hands-on learning with the community is needed to make lasting, impactful change. Through community engagement, CBOs and the organizations who fund them, have the ability to empower the very women they serve and address the issues they believe are the priority within their community or region. In an effort to meet this call to action, U.S. Hunger and Sara Lee are beginning a three-year partnership that will empower women across the continental United States. This partnership will begin by identifying and examining the main socioeconomic challenges that female USH applicants are facing. Such insights will aid in the formation of focus groups, which will allow participants to speak to their experiences and inform policies and actionable items to alleviate food insecurity in their communities. Similar and future endeavors like this will result in community-directed interventions that increase access and availability to nutritious food for all.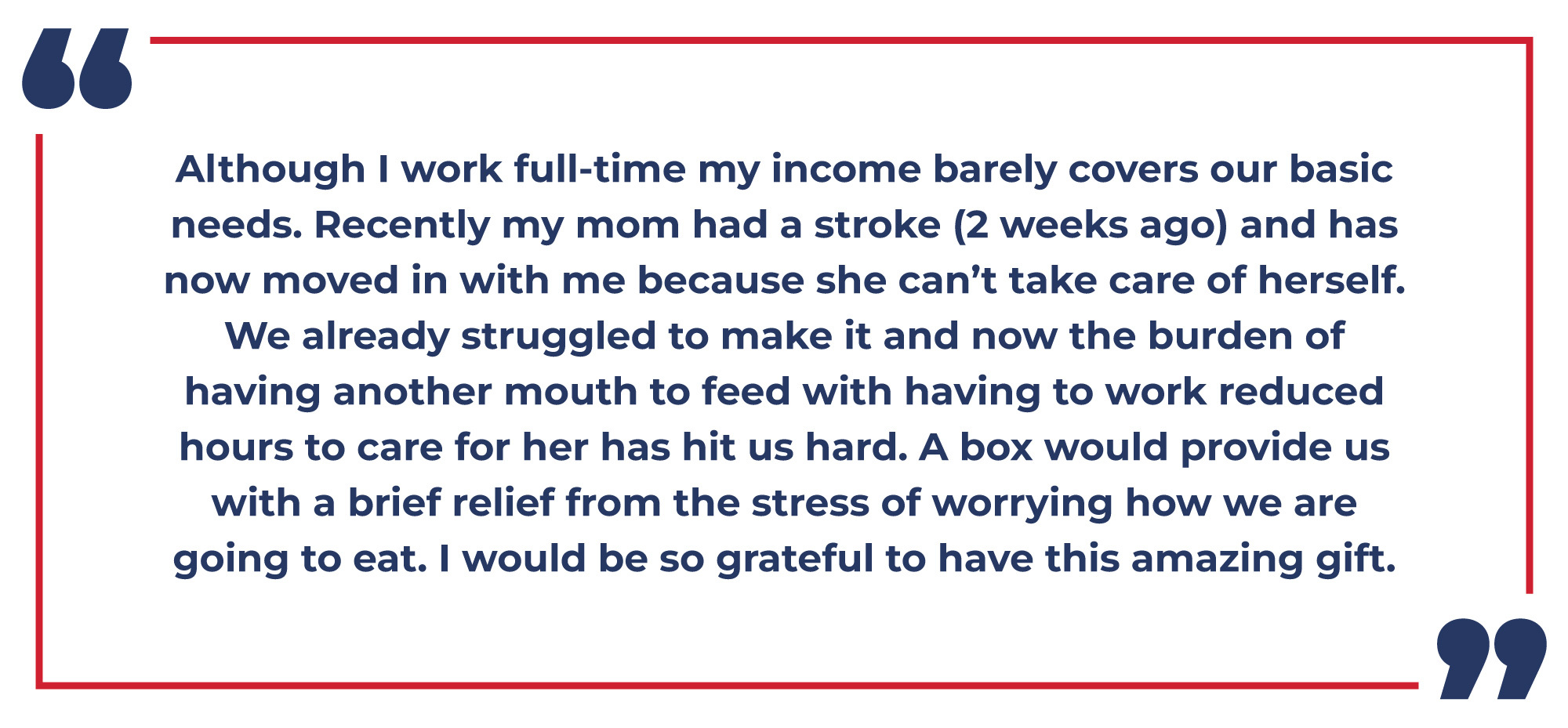 • • •
Subscribe to our Data & Research Newsletter Here.
U.S. Hunger (USH) is a non-partisan, not-for-profit established in 2010, which has mobilized more than 850,000 volunteers to distribute over 147 million nutritional meals as of July 2022. Utilizing real-time data analytics and technology to operate a national home delivery service for the food insecure, USH uses a SaaS-based data tool to gain comprehensive insight into what factors lead individuals to seek food assistance. We work alongside corporate and community partners to identify and provide food assistance to those in need through our Full Cart® program. For more information contact data@ushunger.org.