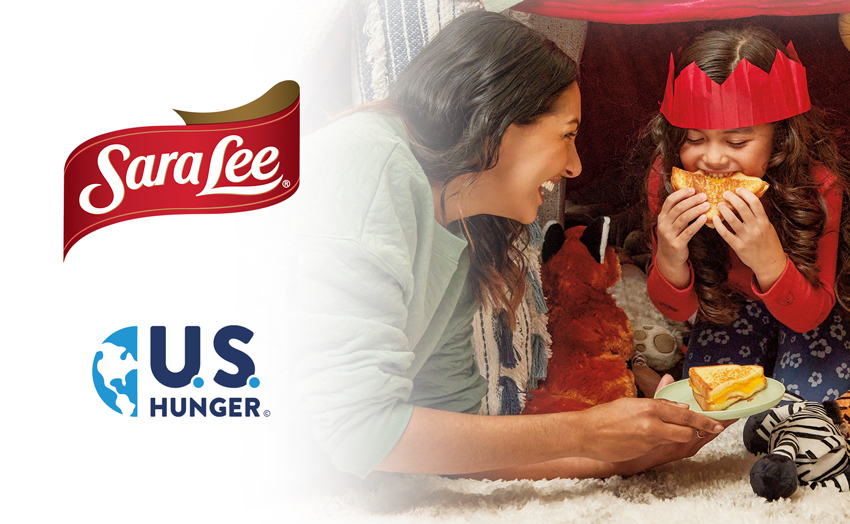 U.S. Hunger Announces $1 Million Commitment From Sara Lee Bread

May 1, 2023
Longwood, FL. — U.S. Hunger (USH) is teaming up with Sara Lee® Bread to address the underlying socioeconomic factors that force families into food insecurity. In the pursuit of the brand's social impact initiative of supporting moms and making their lives a little easier – Sara Lee® Bread turned to USH, a nonprofit organization that specializes in addressing the root causes of hunger by focusing on lived experience.
First-hand stories and data collected through USH's food assistance delivery program, Full Cart®, show that approximately 41.2% of caregivers who applied for food assistance reported experiencing weekly food insecurity – a clear indicator that Sara Lee® Bread's mission to support moms reflects the community.
"I'm really excited about this partnership and how it empowers us to understand the role of caregivers and the tools they need to manage a very complex set of circumstances. Together we can grow our vision and 'be there' for moms across the country in an even deeper way," said Rick Whitted, CEO of USH.
"Establishing this alliance against food and resource insecurity with U.S. Hunger brings me great pride," said Jinder Bhogal, Senior Brand Manager at Sara Lee Bread. "As a highly consumer insight-focused partner, U.S. Hunger will enable us to understand and tackle issues that face moms and their families on a daily basis. By supporting moms through these challenges, our goal is to enable them to focus more of their energy on meaningful moments of love and connection with their loved ones."
The partnership will include food distribution, community engagement, and a comprehensive case study executed in collaboration with Full Cart® applicants. Together, the organizations will uncover the drivers of food and nutrition insecurity, and advocate for families in need.
_________________________________________________________________________________________
ABOUT U.S. HUNGER
U.S. Hunger has activated 850,000+ volunteers to distribute 150+ million meals across the globe. USH addresses hunger by engaging volunteers, educating on the root causes of food insecurity, and creating access to nutritious meals for low-income families and individuals. Learn more at https://www.ushunger.org.
About Sara Lee Bread and Bimbo Bakeries USA
Founded in 1949, Sara Lee® has been serving American families quality baked goods for generations. Founder, Charles Lubin, named the brand after his then eight-year-old daughter as a commitment to the love and quality he would bake into each item that carried her name. In 2011, Sara Lee® Bread was acquired by Bimbo Bakeries USA, a leader in the baking industry, known for its category leading Brands, innovative products, freshness, and quality. Our team of 20,000+ U.S. associates operates approximately 60 manufacturing locations in the United States. Over 11,000 distribution routes deliver our leading brands such as Arnold®, Artesano®, Ball Park®, Bimbo®, Boboli®, Brownberry®, Entenmanns®, Little Bites®, Marinela®, Mrs Baird's®, Oroweat®, Sara Lee®, Stroehmann® and Thomas'®. BBU is owned by Mexico's Grupo Bimbo, S.A.B de C.V., the world's largest baking company with operations in 34 countries.
MEDIA CONTACT
Sarah Aranguibel-Davila
Sarah@ushunger.org
407-794-9326