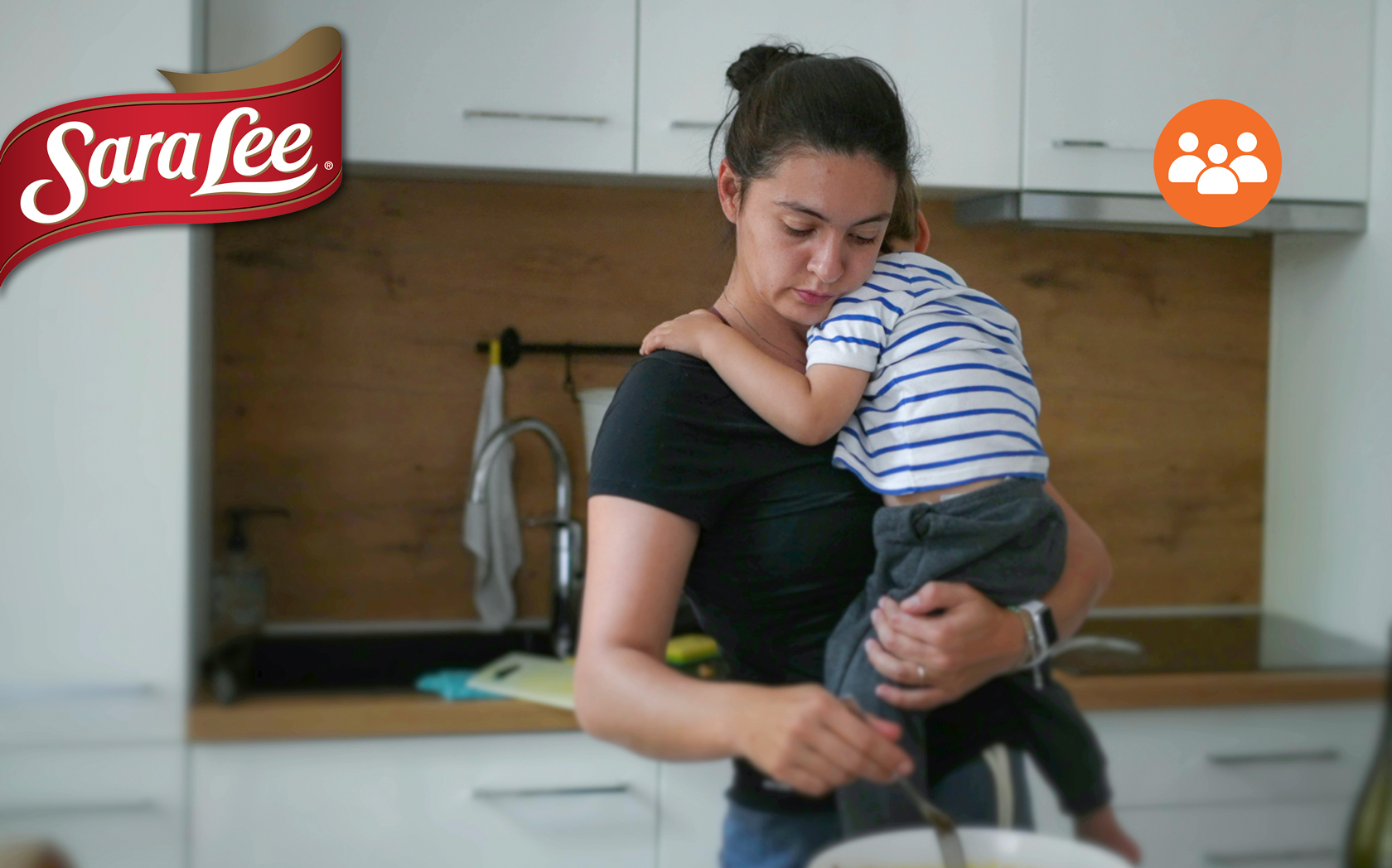 Maternal Hardships in the Face of Food Insecurity

November 20, 2023
Food insecurity in the United States is prevalent among women, and particularly moms. According to the U.S. Department of Agriculture (USDA), approximately 16.6% of households with children experience food insecurity. Families that include children and a married couple experience food insecurity to a lesser, though significant, extent (10.2%) while single mother households experience food insecurity at almost three times the rate (30.3%). These statistics point to the difficulty that many mothers face in providing meals for their families.
Between January 1 and November 1, 2023, U.S. Hunger received requests for food assistance from 52,311 applicants who identified as female. Of these applicants, a majority (68.7%) reported at least one child in their household with an average household size of about 4 people. These women represent the female caregivers and maternal figures (including mothers, grandmothers, aunts, and more) who provide care to children in their homes. More than 1,000 of these women also shared that they were pregnant or recently pregnant, expressing concern for the health of their infant and/or unborn child.

Despite varying backgrounds and experiences, the maternal caregivers who applied for assistance via Full Cart® detailed similar challenges when it comes to providing enough food for their children, themselves, and their families. They shared about their experience with financial hardship and having difficulty making ends meet even with the aid of additional benefits like SNAP. Approximately, 61.9% of maternal caregivers reported making less than $25,000 in household income with a majority (98.3%) also stating that, within the last 12 months, they have worried about their food running out before receiving money to purchase more. One mother explained, "We have a large household and I'm also pregnant. The kids eat every meal, they never miss. But more times than not, at least one adult doesn't eat because we don't have enough." Many maternal caregivers reported having trouble stretching the amount of food they need to feed everyone in their household on a daily (24.3%) and weekly (35.1%) basis. Despite more than 1 in 3 women being recipients of SNAP benefits, several explained that their benefits are not sufficient to meet their family's needs as they balance the food budget with other bills and essentials.

Such challenges and obstacles lead to feelings of strain and stress, which is commonly associated with additional maternal hardships, including depression, a lack of social support, and unemployment. In response to the question, "Over the past 2 weeks, how often have you been bothered by any of the following: Feeling down, depressed, or hopeless?," 13.6% of the Full Cart female caregivers responded, "nearly everyday." Another 21.4% reported that they could use more help for day-to-day activities such as preparing meals and managing finances. Maternal depression and stress have adverse effects on the health of the caregiver as well as those being cared for within the household putting young children at a higher risk of experiencing food insecurity.
Coping Strategies and Impact
To combat hunger and food insecurity to the best of their ability, mothers make trade-offs regarding the quantity and quality of food consumed by members of the household. They carefully make food choices like rationing their own meals or providing less nutritious options to purchase the more affordable pantry staples (e.g., rice, bread, etc.) that have satiating qualities and can be stretched over several meals.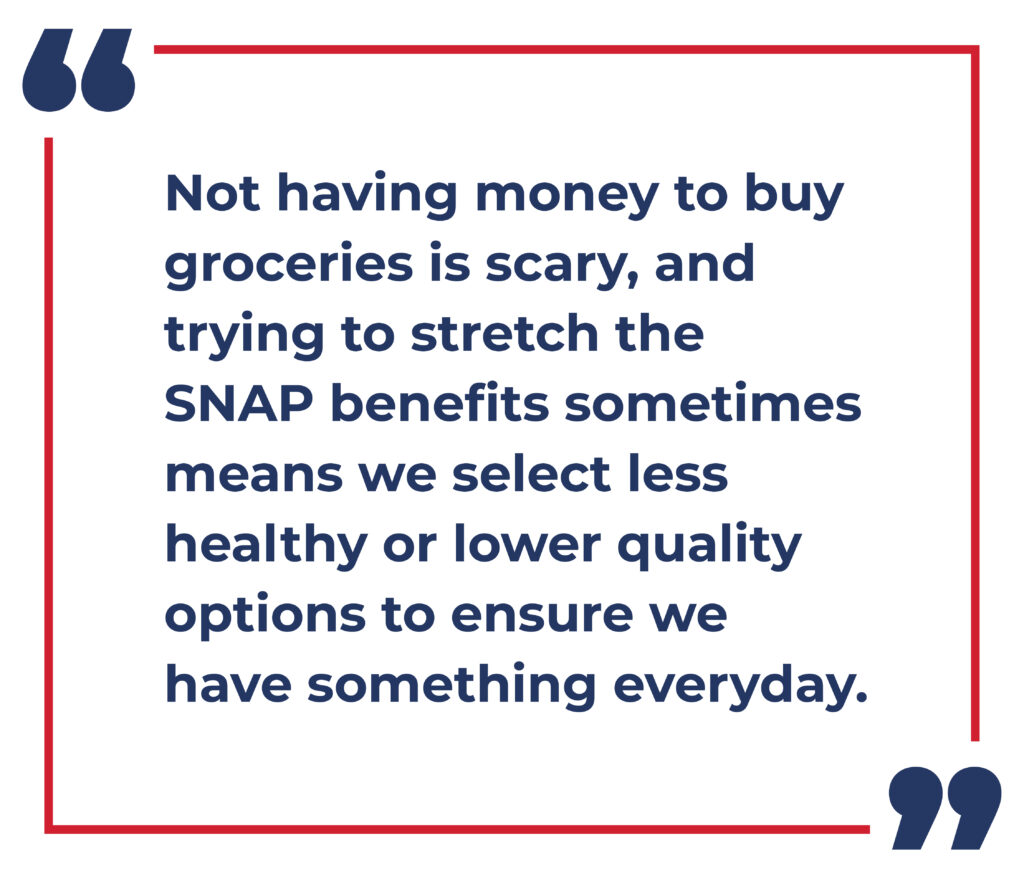 Such choices lead to nutritional insecurity and have poor consequences on physical health and development, including increased risk of obesity and other chronic illnesses. Of the female caregivers who applied for food assistance via Full Cart between January 1 and November 1, 2023, 43.5% reported at least one chronic illness with obesity (16.7%) being the most frequently reported illness. Food insecure mothers are more likely to be overweight and obese and their children are also at a higher risk of obesity. Additionally, food insecurity during critical periods of child development has long-term consequences for the child. Food insecurity experienced during pregnancy and early childhood is associated with low birth weight, birth defects, poor general health, lower academic performance, and internalizing behavior issues (i.e., depressive symptoms). Such findings underscore the importance of alleviating and eliminating food insecurity, especially in its most severe forms. Maternal caregivers are in need of more support, both financially and emotionally, in order to create the best environment for themselves and their families. Those who seek food assistance from U.S. Hunger explain the financial obstacles that prevent them from providing nutritious meals on a consistent basis. Government benefits, like SNAP and WIC, have demonstrated their ability to improve health outcomes and decrease health care costs. These programs must be expanded and implemented in a way that benefits all families who experience food insecurity. Expansion of such programs improves health at an individual level and creates positive, large-scale benefits for the entire country and economy.
To make meaningful improvements in the social determinants of health and food security for all, however, it is crucial to take a holistic approach that reaches beyond the government sector. Sara Lee® bread is a prime example of how the for-profit sector can promote food security at the ground level by partnering with nonprofits like U.S. Hunger and funding research to gain a better understanding of the lived experience of food insecurity. Especially the challenges and obstacles faced by moms. Using this knowledge, Sara Lee® Bread and U.S. Hunger intend to support American mothers with food and resource security, empowering them to share and connect with their families around the kitchen table.