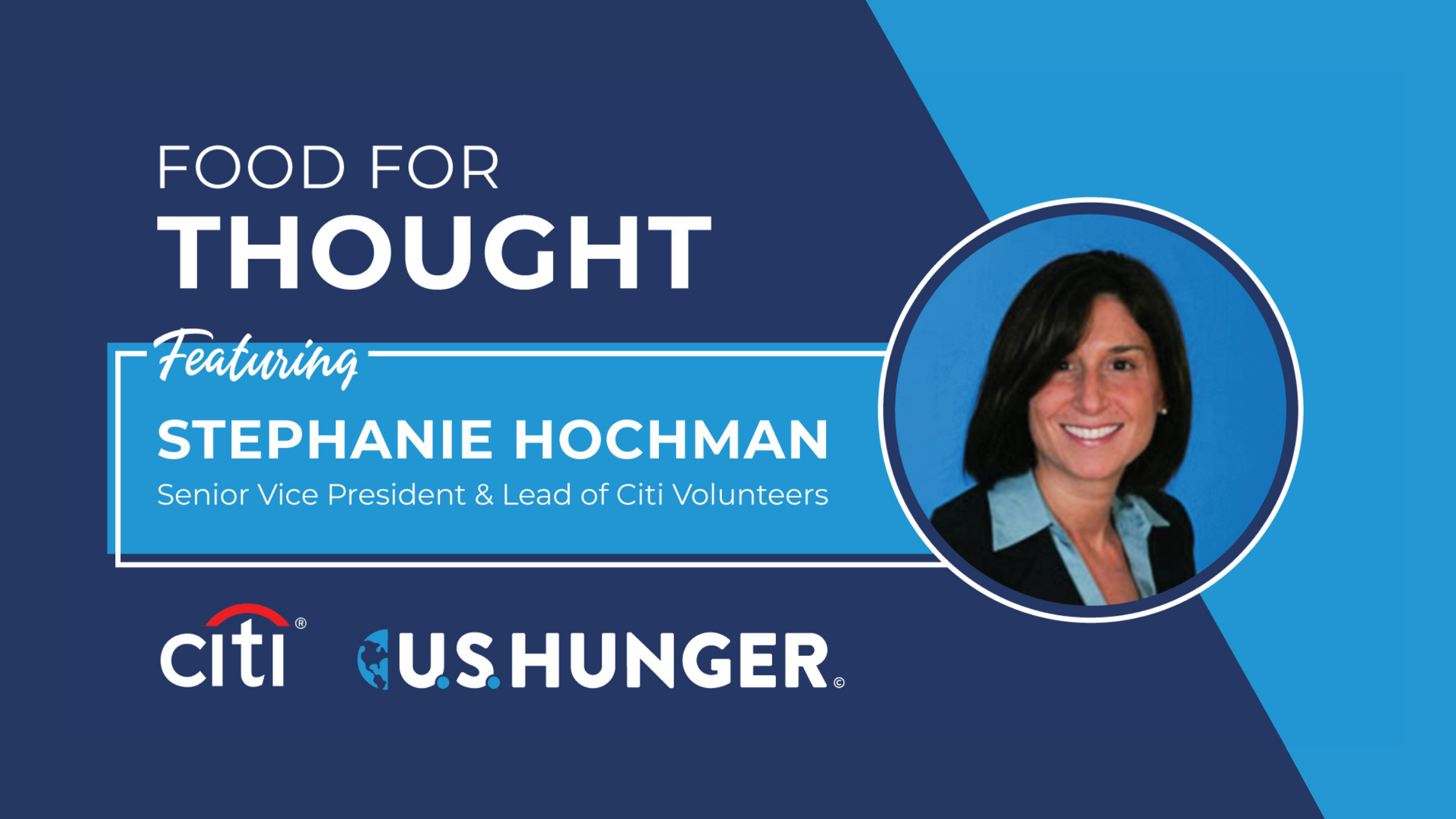 Food for Thought – Stephanie Hochman

October 22, 2021
Food for Thought is a quick chat with some of our amazing partners in the fight against hunger. Hear from Stephanie Hochman at Citi as she discusses how we're teaming up to provide meals for families in need across the country!
Stephanie Hochman is the Senior Vice President and Lead of Citi Volunteers. She is based in New York and passionate about giving back!
• • •
Citi's commitment to fighting hunger is evident through our partnership and we've seen that especially through the pandemic. Tell us why it was important to Citi to make this impact on hunger.
It's important to us at Citi to make a positive impact in people's lives, no matter what the issue is or the struggles that they're dealing with. Giving back is really the way I talk about it. It's in our DNA, it's who we are as a firm. Year-round, we have colleagues around the globe giving back. They're donating their time and their talent to really important causes, and that includes food insecurity. It's a big appeal across the world, lots of interest, not only by our firm but also by our colleagues. They see that there's a really important need, they react, and they really want to help.
Citi has lots of invaluable partnerships, especially some key ones with food-focused organizations like U.S. Hunger. When COVID struck last year, it was so challenging for all of us: personally and professionally, everyone was dealing with so much. You think about the economic impacts and the significant strains on all these families, all around the world. Food insecurity of course is an issue, and it was just exacerbated by the pandemic, so we know that it was important to do something. Our commitment did not waver. We were even more determined than ever to help, so that became a priority for the firm. Especially through our Global Community Day Reimagined Campaign, which is our flagship volunteer initiative that we do every year. It's typically one day in June. Of course, during the pandemic, one day was not going to work because it's also typically in-person volunteer projects. It's where you gather in big groups and you're packing food with hundreds of people around you. And unfortunately, we couldn't make that happen with the pandemic. We, like many companies, pivoted.
This year was the first year we actually had a central focus, a call to action, around the issue of food insecurity throughout the campaign that lasted a couple of months. We're really proud of that. We had people all around the world, really doing all different kinds of things to help in this particular area. They were bringing meals to frontline healthcare workers who didn't have access to food. They were feeding people at home who are isolated and alone, who also were food insecure.
There is one other story I'd like to share that happened here in New York City, where we have our global headquarters building in Tribeca: I'm really proud of the fact that our own hospitality team at Citi, totally transformed our cafeteria, into a meal prep site. It was amazing! They prepped, packed, and delivered thousands of meals to New York City families. I'm really pleased with the way that we were able to get out there and help, and continue to do so.
The world really has changed in many ways, but Citi never gave up on the fight against food insecurity, like many of our partners. You all were very committed to shipping more than 3,100 boxes of food to homes through our Pack With A Purpose program. Talk a little bit about that: how has that experience been for your employees?
I remember it well, brainstorming with my team and trying to figure it out. The issue was that our volunteers love signing up for the in-person food packing activities, and we've been doing that with you and your team for years in markets around the country. We also know that our volunteers like to engage their friends and family to join them at the food packing. We were kind of at a loss, especially thinking about our New York City flagship in-person food packing that we do every year with just about a thousand people joining us in different shifts throughout the day, at our largest, one-day event for the Global Community Campaign in New York City. So we didn't know what we were going to do.
I remember that call: "We just got to get some time, we're trying to brainstorm, give us ideas…" and then you helped us get to Pack With A Purpose.
Well, I don't know if it was us, but it was your incredible team that made it happen. You brought Pack With A Purpose to us and it was a turnkey project for us. You made it so easy for all of us to help, no matter where we were, with many of us at home. When you think about the challenge of engaging, in a lot of ways virtually, it's sometimes hard to engage your kids in activities. But not when it came to Pack With A Purpose. People talk to their kids about this global issue of food insecurity, so that was one really great benefit that came out of this. Kids understood; they took their kids shopping and had them help pack the boxes. It was really a family effort and we actually heard that feedback from our colleagues. They really took advantage of the situation and they too found it really easy to engage. It was simple, and we made quite an impact all together so we were thrilled about that.
Not only did we have our colleagues throughout the U.S. engaged in Pack With A Purpose, but also our Citi leaders, our executives who are leading our businesses across the firm. We had a number of them doing the food packing from home, which was awesome. It really was so well-received, really popular.
Pack With A Purpose is really where we took the best of what we do well as an organization, both shipping food across the country and coordinating pack events. While we were not able to bring people together physically, it's, as you said, allowing them to receive a box. Volunteers and their families went and packed the food, and then that food gets shipped to, in this case, a designated food bank of Citi's choice. Stephanie, you and your team really helped bring that alive.
You mentioned Global Community Day this past year. When you invited our organization with Pack With A Purpose, you also asked us to consider a webinar. Can you speak a little more about this role of education in Citi's impact and volunteerism?
Education, when you think about it, is really key to understanding the critical issues and the needs of people all around the world and in our own communities, our own backyards. When we hosted that virtual webinar, it was important and a great opportunity for our volunteers and the invited folks who had signed up to participate, to hear from you a lot of important background on the topic, the global issue of food insecurity, holistically. The volunteers had a good understanding after that session of how their actions are going to make a real, positive difference in the lives of people in need and that's the bottom line.
When I think about it, I believe education is a precursor to even more volunteerism, volunteer engagement, because it raises awareness of the needs of how you can make a difference from simple actions in all different areas. For us at Citi, we've helped address food insecurity, youth unemployment, environmental sustainability, and the list goes on.
But I also like to say that education is a gateway to being a good corporate citizen. It's always the first part of a cycle: education, engagement, action, and impact.
Unfortunately with COVID, that certainly showed us how important it is to get out there and volunteer, and help your local communities and neighbors.
Hearing you talk about how they use that as an opportunity to educate their children and family on what they're doing, I think this is a great event to really help people understand or remind people of the "why".
Stephanie, you and Citi have been amazing partners for years. On behalf of U.S. Hunger and our team, we want to say thank you for being committed to ending hunger and choosing us as a partner along the way. Thank you so much.
Thank you. It's mutually beneficial and we look forward to more partnerships moving forward.
*This interview has been edited for length and clarity.