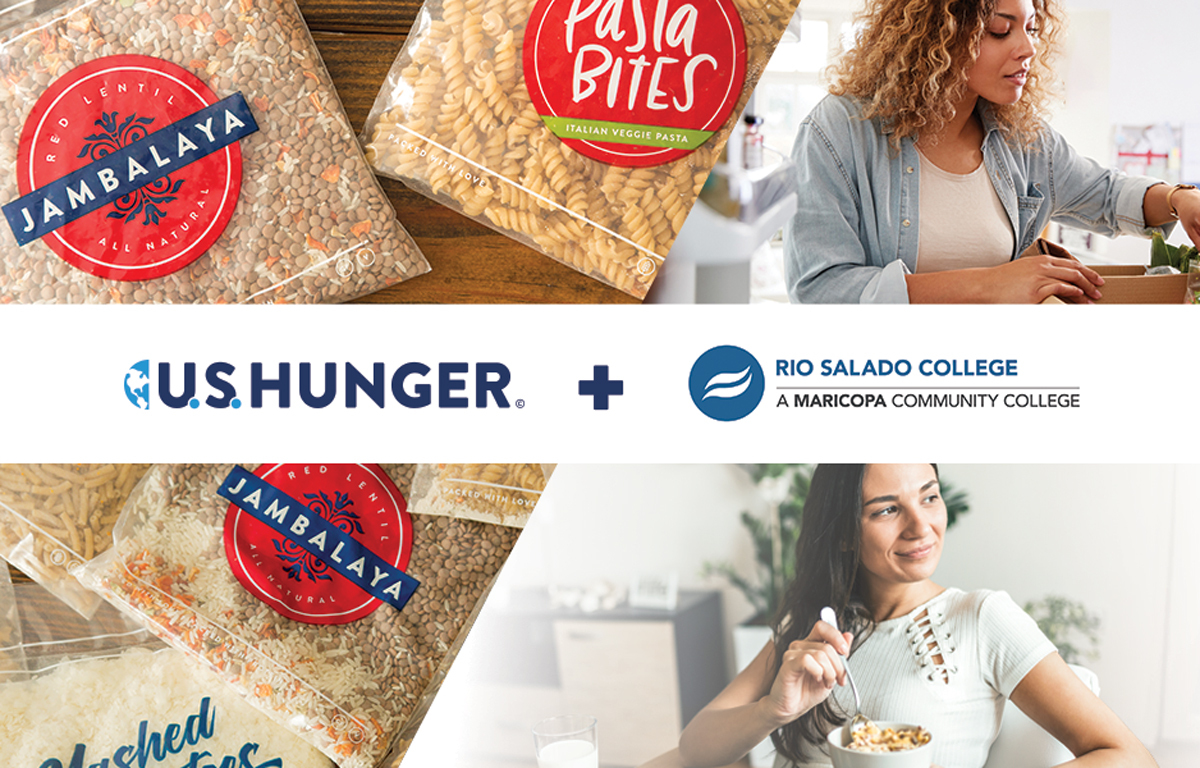 Food for Thought – Rio Salado

July 27, 2021
Food for Thought is a quick chat with some of our amazing partners in the fight against hunger. Today we will be discussing misconceptions around student hunger and how we're working together to fight for food justice with Dr. Greg Pereira.
Dr. Greg Pereira is Vice President of Student Affairs at Rio Salado College and a passionate advocate for students who thrives on taking innovation forward into action. Prior to his time in higher education, Pereira worked in the non-profit sector as an executive and direct-service provider in Phoenix and Los Angeles. He oversaw multiple nationally recognized programs and successfully implemented initiatives and practices that connected homeless individuals to career opportunities.
• • •
Can you share a little bit about Rio Salado College?
Rio Salado College is located in Tempe, Arizona. What's great about this partnership is we pretty much cover the whole country between the two of us. We were founded 40 years ago as a non-traditional provider of education. When everybody else was building large campuses we started offering classes at shopping malls and in prisons with GED courses. We were also one of the earliest pioneers of online education where we still have students in all 50 states online which is very rare for a community college in one area. When the topic of food insecurity came up, we heard so many examples of people opening food banks or doing things on traditional campuses, but that just doesn't work when you have thousands of online students throughout the country. This is what led us to U.S. Hunger and the start of such a phenomenal relationship.
Let's put some context around it, how many students across the country?
Right around 50,000 depending on the year so quite a few.
What is the biggest misconception about food insecurity and students in college?
That's a great question. The biggest misconception is people think it happens every once in a while, but the data tells us it's happening way more than anyone had thought. This really is a nationwide epidemic. Temple University's Hope Center sent out a survey in 2019 to 86,000 students across the country at 120 institutions. They found that 45% of all college students surveyed had experienced food insecurity in the last 30 days. Almost 60% of college students had experienced either food insecurity or housing insecurity in the last year. We're talking about the majority of college students feeling these effects and of course it's much higher at community colleges. It's much higher with first generation college students and those that come from diverse or lower income backgrounds. It is a huge misconception that there's only a few people that need help when we have a mass issue in higher education that has to be addressed.
Hunger looks a lot like your neighbor. It could be someone just caught in a bad season or a tough time. When you think of hunger, most folks don't immediately think that college students or working college students would struggle with it. What's driving that? What's driving hunger amongst college students?
I think it's a convergence of a lot of factors. We have a lot more adults going back to re-career than we have in the past. With online education's emergence, more and more working adults can go back. So you have a lot of single parents and you have a lot of parents who are underemployed. They have some sort of employment, but it's not quite enough and then you add the cost of tuition on to that. That's just one population, but then we have systemic issues that really reflect how higher education needs to change.
In some instances, we have a lot of students nationwide who are on meal plans as part of a scholarship because they're low income, but the food services are closed on Sunday and they are not allowed to cook in the dorm room. I think that we try to avoid those situations as much as possible and put more resources in, but I can tell you as a poor college student who attended a four-year university, I found myself in that exact same situation. When nothing is open on campus, your meal plan does no good and when you don't have money to go out you just have to make do or you go hungry and it's something that has to be addressed.
You're talking about someone who is trying to work their way through and progress in life using education as a tool to do that, but in the process, they're facing hunger for a season and need help. I love that you are trying to address and educate folks so you've set up a virtual food pantry to provide help with discretion.
How does a Rio Salado student get to your virtual food pantry? Can you tell everybody what the process is?
Our virtual pantry is just one virtual service that we provide because again, it's never just hunger. That's typically a symptom of something else and so what we set up is really unique. We have virtual counselors who can work with students anywhere in the country. Students can make contact with them or we might make contact with the student on a faculty recommendation. Sometimes it's not just food insecurity, but a domestic violence situation or housing insecurity or a loss of job. Then we connect them to partners in the community or provide employment resources in addition to that food piece. Once a counselor starts working with those individuals, we identify the different needs that they have and how we can best address them. When it comes to food, we have the best partner in the nation, U.S. Hunger, who helps get these phenomenal food boxes delivered. It's not just enough food for the day, sometimes it's enough for a family or a student to eat for weeks. During that time, the students' initial needs are met and we can provide wraparound services to support them in other areas so we can continue to support them in their education. For us, the most basic premise we know is if you're hungry, you can't learn. Your brain goes into survival mode and so it is a need that we have to meet in order to accomplish our mission as a college.
What you're talking about is the interconnectivity of a variety of socio-economic issues. There's a term that some may know called social determinants of health. It's a fancy word for saying the effects of poverty across a variety of things.
Can you describe practically how a variety of things are connected and hunger may not be the leading cause, just a symptom of the cause?
Absolutely. I can even talk about one really simple thing which is transportation. People don't talk about transportation as the symptom of food insecurity that it is. When you have students who are underemployed, working a job, maybe paid minimum wage or lower than what they need to support a family and you don't have your own car, you're relying on a bus system. Right off the bat that impacts your ability to get food. Does the bus go to stores I need to get to or run at a time when I'm not working? What if I work a graveyard shift or what if I don't get off until 11 pm?
For us, when we first really understood how huge this issue of food insecurity was, we started thinking about our students who live on reservations. We have a lot of native american students on reservations, a lot of which are in food deserts. Not only transportation, but what if they don't have a grocery store within an hour of where they live and they're underemployed or they've lost employment altogether. Those things just add up and we really needed to find a solution that wasn't dependent on transportation or being able-bodied.
You can see how these things come up in a multitude of ways: not just job loss, income, physical limitations, food deserts, grocery store acces. It's so many things rolled into one. It's also about knowledge of nutrition. Have we taught people the food that they need to be eating? Especially those that are afflicted with certain medical conditions. Do they have the information they need to stay healthy? That's really where education and food need to come together so that we can address this issue. That's why partnerships like Rio Salado College and U.S. Hunger can be so effective.
I'd love for you to speak from the point of the students you guys are helping. For the people that are reading this, what do you want them to hear directly from the heart of those students?
They just want to have a better life. That's really what it boils down to. I think a lot of times people will misconstrue help as a failure or as something gone wrong, when in a lot of cases nothing's gone wrong for our students they're just trying to get to a better place. They're trying to break a cycle of poverty for their family so that their kids don't have to struggle. That's really where they're coming from and we have a responsibility to do everything we can to support them in that journey.
We see the exact same thing in the families we help, they just need a little help right now. They're already on the road to trying to be better, they just need help. I love that Rio Salado takes a minute to listen to the story to determine the issue and figure out the best path. That may include a box of food, but it includes a lot of other ways that you can help. Same heart, same mission, same mind.
*This interview has been edited for length and clarity.