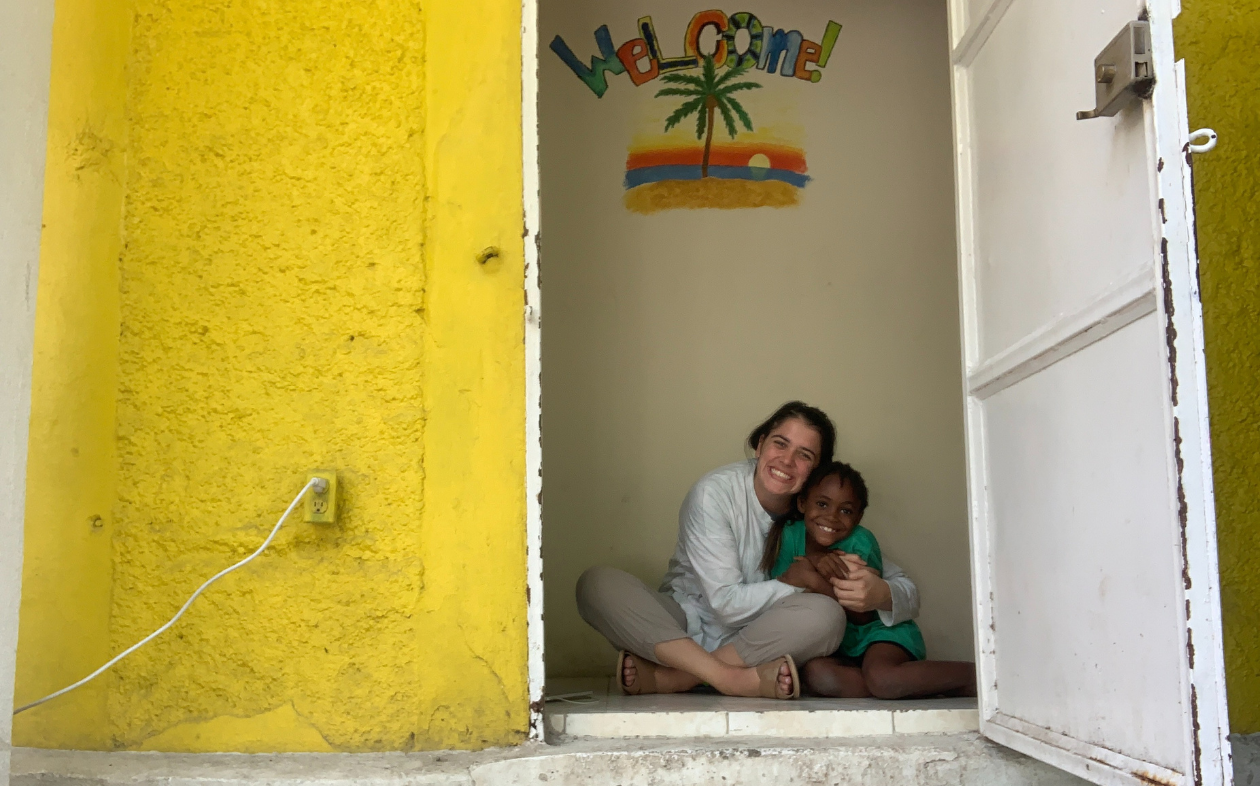 Food for Thought – Our International Impact

November 15, 2021
Food for Thought is a quick chat with some of our amazing partners in the fight against hunger. Hear from Briana Blanchard, lead of our international programming, to learn about what we're doing overseas to help those in need.
Briana Blanchard has been with U.S. Hunger for almost three years leading many of our meal packing events as well as our international program. She came to our organization with a passion for people after many years building her career with the Chick-fil-A franchise. In addition to training and coaching, Briana flourishes in environments where she gets to serve and connect with others.
•  •  •
Over the last year, our international impact strategies have undergone a radical, huge shift. We took a hard look, particularly during the pandemic, at our impact, and decided that we wanted to be an organization that makes a lasting difference on the families we serve both here and internationally. 
Can you talk a little bit about that shift and what we're doing now to help those overseas? 
We've gone through a bit of a re-brand this past year to U.S. Hunger, but this international initiative keeps the "Feeding Children Everywhere" name alive in a real way. International donation is nothing new to our organization as we've served our food to 53 countries so far, but moving forward, we really wanted to invest in it more and just kind of pause where we're at. So building roots and building out those relationships is something that we can see over the years.
When our team sat down to think about where it makes sense for us to start building out these long-term relationships that you mentioned, it was a pretty quick and unanimous decision that we simply had to start in Haiti. With our rich history, it just made sense. It was such a motivating reason for so many of us here on the team. Once we identified Haiti as our next location, we very quickly hit the ground networking. We reached out to schools, orphanages, after-school day camps, and any kind of youth program we could possibly get a hold of. Our intention really was to identify the needs, challenges that they're facing, opportunities that we have there on the island, and more specifically how we could be a solution for a lot of those hurdles that they were facing. After talking to many people and making tons of connections down there, we were delighted to have partnered up with Have Faith Haiti Mission, which is an orphanage right in the heart of Port-au-Prince. 
At the time, they were serving forty-nine kids from 3 to 19. Since then, that family has grown with nine beautiful new additions this past summer. But something that stood out to us was that they have a bilingual school on site and that was just the biggest pitch for us. In Haiti, education is viewed as such a luxury there. It's pretty common for kids to skip a few grades or just not have the opportunity to go with any kind of regularity. Households that have maybe three kids might not be able to afford to have all of them go at the same time, so each kid might have to wait a year or two before they can go to a class again. The fact that Have Faith Haiti Mission had made that commitment to invest in education with these kids, just proves our values were aligned in that we really want to set these kids up for success in the long term, big way. 
So last year, we put together our first donation for them. It was actually really interesting. We already knew where we wanted to go and who we wanted to help, but we didn't know what that was going to look like because we had only ever done food before. What kind of inspired that donation was the way that we had invested in getting to know and interact with our recipients that we have the pleasure of serving here domestically. We're able to notice that hunger is just a symptom. It's only one factor of what sets someone up for success. Whether it's housing, education, or access to health care, there's so much more to that and we really wanted to get involved in those areas as well to give these kids the best opportunity that we could. 
Yes, we sent our pride and joy: red lentil jambalaya, and we had nutritious, shelf-stable items going over there to fill those beautiful bellies, but we also sent over education items. We sent tons of school supplies, clothes, toiletries, first aid kit items, and toys. I have never seen a scooter bring such unbridled joy as I have there. So it was just really interesting to see how much bigger we could expand our impact and we cannot wait to continue working out with the partnerships that we have here as well as individual donors to continue to make that bigger. 
This year, it's Haiti, and we're excited to keep growing that out and see these kids go from three years old now, learning to walk and talk in multiple languages there, to hopefully in a couple of years being able to cheer them on as they're starting college, a career, or whatever looks successful and satisfying for them. We want to see them all the way through. Not just with this batch, but all the kids that are going to be coming through this mission after them. So we're excited to start with Haiti, but we definitely have a couple of countries on our minds for upcoming years. 
Have Faith Haiti has done just an incredible job of addressing the global needs of their kids. Can you talk a bit about how they are addressing housing, health, hunger, and education – the social stability factors that we fight for through our mission? 
So the bones there are pretty much similar to what we would see here domestically. Of course, the extent and the way it looks is very different over there. But for something as simple as housing, many of these kids came from tent cities or had their homes completely annihilated from a natural disaster where they were just living in the woods. They didn't have shelter or anything to give them that kind of security, and now they're in a situation where they're in a big beautiful building. They are in buildings that were intentionally built after the earthquake of 2010 to help withstand another one, that's something specific to that region and a very scary reality. They invest in constantly doing refurbishments to make sure that everything's up to code, up to snuff, and that the gate is secure. It is a rough area and gang violence is alive and well there, so they're making sure not only that the building isn't going to go anywhere from anything naturally happening, but socially as well. They need to make sure that they're a bit of a fortress. 
As far as their investment in education, they actually have a bilingual school on-site specifically for their kids, and that is not something that is taken lightly with their kids at all. They understand the gravity of how big of an opportunity that is, and how it's not a luxury for other kids that were in their situation or maybe their siblings who are outside that and were not surrendered to this orphanage. So the level of commitment that these kids put into their studies, they know how grateful they are for it and they show it by putting in the hard work. Not just during their structured homework time, but they really take that passion all the way through their free time as well. They're asking engaging questions: college is always very much the focus. You'll have five girls walking around, talking about how they want to go to Madonna University in Michigan, which is just a little different than the playground talk here stateside, but it's just so interesting to see that kind of passion. 
Food is a little different there. For many of the kids outside of the mission who are living in the streets or those tent cities: the reality is they don't have, can't afford it, or can't get nutritious meals, but they still have that intense hungry feeling. It's not uncommon to see a kid eat a mud pie, and that is essentially dirt that they're eating, to give them the sensation that they're full, but of course without any nutrients or anything like that. And that is just something that would not be tolerated here stateside but is kind of the norm there in Haiti. So Have Faith Haiti Mission is not only investing in getting produce and good meals on the table for them, but really trying to cater it to: "How can we get more protein? How can we target and use food as medicine?" This was just something that we were so excited to help support them in. That was another part of our donation. Of course, we sent our red lentil jambalaya, but we also sent additional items like pure lentils for them to use as their own base to create meals that were gonna be familiar to them and comfortable for them to help integrate those kids into those new menus.
You started working with Have Faith Haiti just over a year ago and you actually spent time at the orphanage with them for several months. What was that connection like? 
So I was able to go down for three months and work alongside their staff to get to know, love and support these kids. I went down in the capacity of being a teacher, and I was lucky enough to kind of have classes in all of the age ranges. So not only did I get to know them personally, but I also got to see them academically in a more professional setting. Leading up to the day that I got there, I had studied up on these kids and memorized every bio and every bit of information I could possibly know about them, but knew that to these kids I was a complete stranger. They didn't know me from Adam. But when I got out of the car, they swarmed me with hugs, giggles, more love and affection than I've had from people I've loved in my life for a long time, notes and personalized cards with prayers, and just being so grateful to have someone there whose sole focus was going to be just to better them. It was just so overwhelming, the generosity of these kids. 
The goal for us was to make sure we didn't just assume what was needed, but that we understood the felt need. That made us really think differently about how we respond to help. It doesn't just mean food. Tell us more about how you (and us as an organization) connected with that mission and this effort overall. 
You tend to think of orphans along the lines of "Oh they might not have enough, and they're probably so grateful for what they have". Yes, that's true to an extent, but as you can see right there, one of their classes was a woodworking class. It was really fun for confidence, but also it was practical to have extra benches around the table. The kids got to learn a skill set so maybe they can make that a profitable hobby one day. But when we were making all of these, all the woodworking classes got together and they said: "This is more than enough. This is more than what we need. We should share this, help, and extend our neighbors". And these are kids! I mean, these aren't the adults and the teachers making these decisions or even suggesting it. The kids on their own had that passion to help out the nearby orphanage and they were thrilled to be able to donate. That kind of gratefulness and thought was just so inspiring. We just are very grateful to have them open up their doors to us so that we can actually start that conversation of really what's going to best cater to them moving forward. We did a great job with that first donation but we can't wait to build off it for the next one. 
Although we've rebranded to U.S. Hunger, Feeding Children Everywhere is still very much a part of our legacy. It's not the "who" we are in terms of the name, but it's the "why". How has this focus and experience changed U.S. Hunger? 
I think it absolutely has kept the heart alive and it keeps it so personal for many of these kids. Our teammates have become pen pals, and we keep up and have correspondence with them. It feels more like we've grown our family rather than a new project that we're taking on. I think the reality of the fact that it is kids and that tugs on your heart so much more. Seeing the potential and opportunity that we have to be there to support them as they become successful, learning new skills, and becoming young women and men that they can be proud of to make those selfless decisions and to have that sense of duty, I think it just keeps it so personal. It's such a motivating drive for so many of us on the team.  
How can people, who are inspired to be a part of this mission, make a difference? How can they be a part?
Of course, donations go so far. 100% of it goes directly back to these kids. These are growing kids who need new clothes, and kids that are battling different health conditions that need medication that is quite costly there on the island, so it allows us to get them easy access to it. It's the satisfaction of knowing that you are truly making a difference in these kids' lives. It's the difference between maybe a couple of extra journals and notebooks. These kids are writing down everything in class. They're not just studying up for the class they're in now, but they're reviewing all the material they've had for maybe the six years that they've been going to school because they take that commitment seriously. So knowing that you're helping encourage and bolster up that future for those kids means the world. Donations and coming out to our events to help package those meals, every bit of it truly helps. So thank you so much; we'd love to see you out there!
Our heart is that this effort would grow and eventually we would be feeding children everywhere. That's feeding the full child: their bellies, brains, spirit, and their hope. A lot of people come and go with these types of organizations, but countries like this need support, so we're not going away. As Bri said, the kids at Have Faith Haiti Mission and hopefully many other children around the world, are our family. We'll go as far and as large as we can go for them. Thank you, Bri, for really leading the charge here. 
Thank you!
*This interview has been edited for length and clarity.