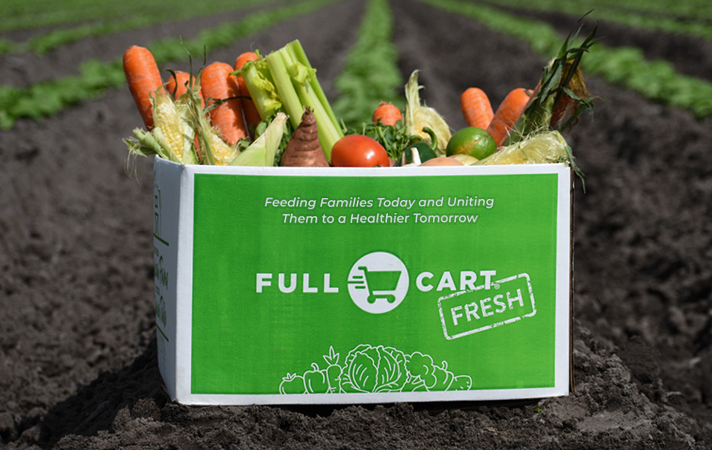 FCE Announces Home Delivery of Fresh Produce

November 6, 2020
Longwood, FL. — Feeding Children Everywhere (FCE) announces, Full Cart Fresh, delivery of fresh
produce directly from farms to the homes of families in need.
Full Cart Fresh brings fresh fruits and vegetables to their existing Full Cart program, a Virtual Food Bank delivering boxes of food directly to peoples' homes. The introduction of fresh produce to Full Cart is part of an ongoing initiative at FCE to improve access to healthy and nutritious food.
"We have evolved from simply feeding people to better understanding the overall health and nutrition needs of those we feed. Inadequate consumption of fresh produce has been attributed to the cardiovascular diseases reported by more than 70% of our food applicants. Now that we have this data, FCE has an obligation to expand our program and provide solutions which improve overall health outcomes for the individuals who receive our food. Partnering with farmers to bring fresh produce directly to the doorstep of those who need help the most, was a logical next step in our evolution," stated Chief Marketing Officer, Tiffany Kobashigawa.
The farm-to-family model guarantees two-day fresh delivery, with each Full Cart Fresh box containing 10-12 pounds of seasonal fruit and vegetables. The program is currently available in select eastern markets in the United States. Fully funded by generous donors and corporate sponsors, Full Cart Fresh is offered at no cost to applicants.
"This program is about dignity and discretion. Families in need can discreetly request food assistance online, and have a box of fresh produce delivered directly to their front door. We are dedicated to providing our clients with a quality experience, reminding them that they matter and that they're worthy of fresh and nutritious food," says Feeding Children Everywhere CEO, Rick Whitted.
_______________________________________________________________________________________________________
ABOUT FEEDING CHILDREN EVERYWHERE DBA U.S. HUNGER
Feeding Children Everywhere DBA U.S. Hunger is a 501(c)(3) non-profit organization dedicated to the vision of a hunger-free world in our lifetime. Since 2010, FCE has activated more than 800,000 volunteers to package and distribute over 150 million meals to children and families in need. Learn more at https://www.ushunger.org.
MEDIA CONTACT
Sarah Aranguibel-Davila
Sarah@ushunger.org
407-794-9326