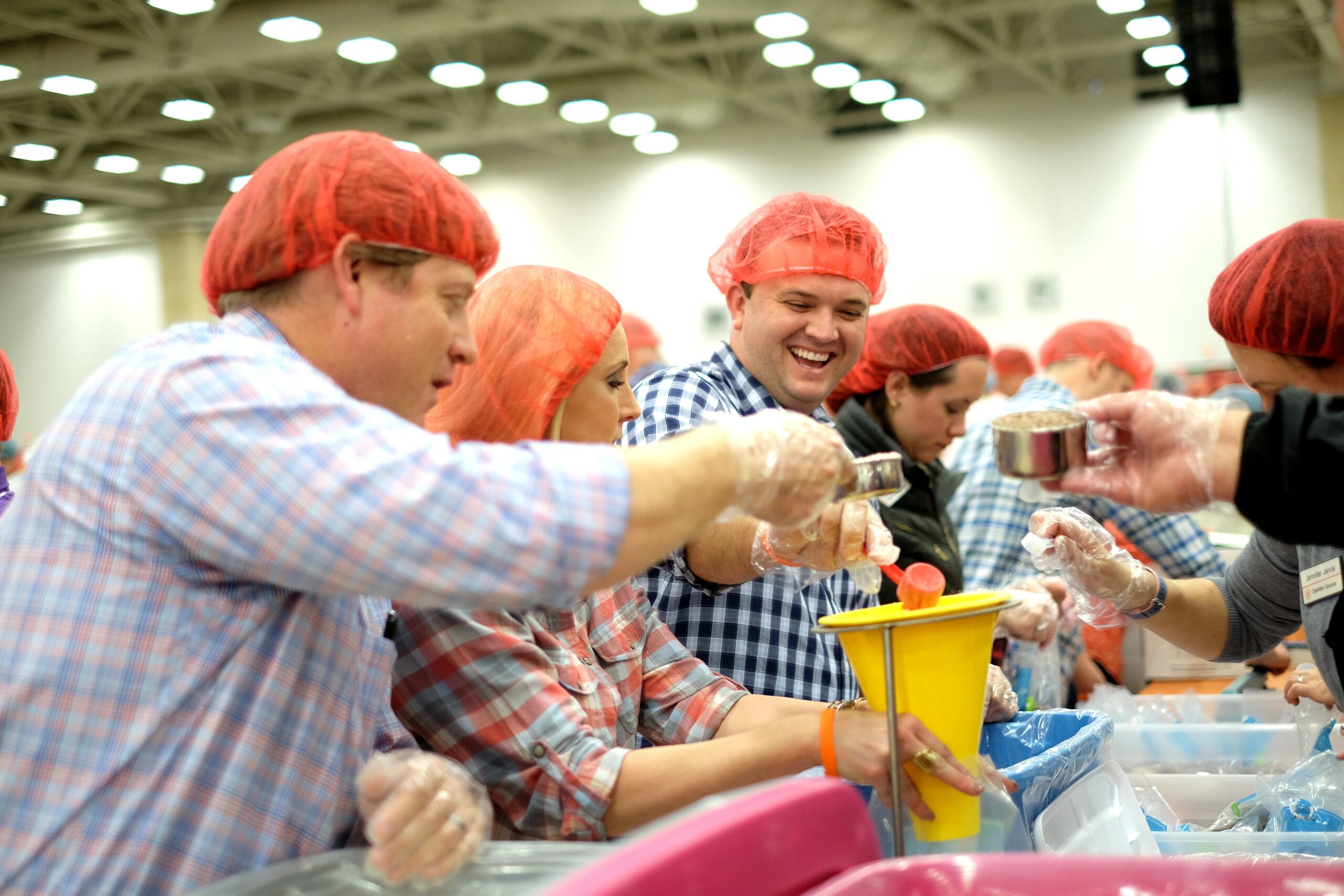 5 Benefits of Hosting an Employee Volunteer Event

August 31, 2021
As Corporate Social Responsibility (CSR) becomes increasingly more important for employers, find out why your company should host an employee volunteer event.
1. Increase Employee Engagement
It shows in a company whether their employees are involved, excited and committed to their work. When employee morale is low, productivity suffers. A report issued by Realized Worth states that "for companies where employees were more engaged than not, their profitability jumped by 16%, general productivity was 18% higher than other companies, [and] customer loyalty was 12% higher." It may just look like a bunch of numbers, but these statistics are proof that employee engagement is crucial for any organization.
U.S. Hunger (USH) engages and empowers our hunger heroes by giving them a high-energy, turnkey volunteer experience. Our meal packing events (Hunger Projects) are not your typical volunteer events; they provide a way for someone of any age to impact thousands of lives that need it most. The 2019 Millennial Impact report indicates that Millenials "not only want to give and serve – they have a passionate desire to do so."
2. Initiate Corporate Social Responsibility
Now more than ever, companies are engaging in CSR. Some opt for a sustainability program while others initiate give back campaigns. CSR helps a company align with core values, such as integrity, in helping the community and caring about the consumer. Meal packaging events provide a tangible way to show that your company cares about more than just the bottom line.
Many consumers find a company that has initiated CSR in their organization more reputable. As of 2020, 96% of the world's largest 250 companies now publish annual CSR reports because they understand the return on this investment. If this doesn't give you enough incentive to start fulfilling your corporate social responsibilities, did we mention there are great tax benefits involved with 501(c)3 organizations like USH?
3. Improve Branding Opportunities
Hosting a Hunger Project allows your company to improve public image through branding opportunities. By packaging hope in our delicious meals, you can demonstrate how your company cares; about their customers, the environment and society as a whole. Including several departments or even the whole company demonstrates a united front through teamwork.
If you notice, companies that give back to the community receive positive media coverage, which is just one way to promote and advertise what you do. When you book a project with our team, we can give you the option for custom event materials. You can also post about your project on your own social media or personal marketing materials. Research shows companies that care are bound to increase their brand equity among consumers.
4. Implement Soft Skill Development
Companies spend thousands of dollars every year on employee development training materials, conferences, or books. Meanwhile, USH can empower your employees to implement necessary soft skills through a tangible volunteer experience. Leadership, communication, team building and problem-solving are just a few of the key skills that are found at one of our Hunger Projects.
Groups of 12-13 people gather around assembly lines that our team sets up for you to package thousands of delicious meals. Learning how to work together and communicate through this event results in lives changed; for both the volunteers and hungry children and families who need it most.
5. Impact Lives
Most importantly, it's all about what happens next. It's more than just putting food in the belly of a child, it's about providing the hope they need. USH understands the importance of how hunger can affect children, families, seniors, and our neighbors. We provide nutrition to help fuel minds and bodies of those who need it most through one of our meals packaged at Hunger Projects. Whether it's our classic Red Lentil Jambalaya or Italian Veggie Pasta, these meals are sure to be delicious and filling.
We have seen millions of meals packaged for villages thousands of miles away as well as individuals and families that are right here at home. Each meal, each scoop and each volunteer can make a difference. Together, we are fighting for a hunger-free world and we believe that we can see this happen in our lifetime. Are you ready to change lives?
—
Learn more about hosting a meal packing event with U.S. Hunger for your company!